Pistol Bay Mining Inc. (PST.V – TSX)
---
Pistol Bay Mining Inc. is a diversified junior Mining Canadian Exploration Company with a specific focus on zinc and other base metal properties in North America. The Company is engaged in the acquisition, exploration and development of mineral properties and is focusing on:
100% optioned properties in Confederation Lake VMS Greenstone Belt, Ontario:
· Garnet Lake/Arrow Zone Zinc-Copper Claims
· Dixie 17, 18, 19, 20 and Dixie 3 Zinc-Copper Claims
· Fredart, Copperlode, Zinc-Copper Claims
· Ben Lake, Joy and Caravelle Zinc-Copper Claims
. Lucky 7 / Moth Zinc-Copper Claims
Garnet Lake / Arrow Zone
The Arrow Zone has a 43-101 compatible mineral resources as follows:

3% Zn equivalent cutoff:
Indicated Resource 2,071,000 tonnes @ 5.92% Zn, 0.75% Cu, 21.1 g/t Ag and 0.58 g/t Au
Inferred Resource 120,550 tonnes @ 2.60% Zn, 0.56% Cu, 18.6 g/t Ag and 0.40 g/t Au

5% Zn equivalent cutoff:
Indicated Resource 1,762,000 tonnes @ 6.75% Zn, 0.79% Cu, 22.3 g/t Ag and 0.61 g/t Au
Inferred Resource 51,630 tonnes @ 3.86% Zn, 0.79% Cu, 23.9 g/t Ag and 0.58 g/t Au

10% Zn equivalent cutoff:
Indicated Resource 633,000 tonnes @ 14.3% Zn, 1.11% Cu, 31.7 g/t Ag and 0.85 g/t Au t Lake / Arrow Zone

Assay results from April 2018 drill program:
DDH GL18-01 intersected 4.34 ZnEq over 10.90 metres
DDH GL18-02 intersected 5.15% ZnEq over 12.85 metres

Dixie 17, 18, 19, 20 and Dixie 3
The Dixie Zinc Copper Project is optioned by Pistol Bay and is in Confederation Lake Greenstone Belt in Ontario. This property is known as the 17-18-19 Dixie Claims. Pistol also owns the Dixie 20 Claim which is located east of the Dixie 18 Claim and North of the Dixie 19 Claim. In addition,Pistol Bay also has the Dixie 3 claim, formerly know as the Snake Falls property. This property is located 45 kilometers southeast of Red Lake. It is within 8 kilometers of the Dixie 17, 18, 19, 20 properties and fits within the company's exploration model located 35 kilometers southeast of Red Lake, Ontario.These are Zinc-Copper properties
Fredart, Copperlode
The other substantial deposit is the Copperlode "A" or Fredart Zone. It has a historical mineral resource of 386,000 tonnes grading 1.56% copper (non-compliant NI 43-101 and has not been reviewed by a Qualified Person). The zone was previously drill-tested to a depth of approximately 200 meters over a length of 350 meters, and was reported as being open at depth. A total of 283 drill holes were drilled on the Fredart 'A' and Garnet Lake claims. The area was also explored for molybdenum in the 1970's and samples containing up to 1.46% Mo were reported.
Earlier this year (2017) a VTEM Plus survey was done on most of the claims and it showed conductors on these claims that do not appear to have been drilled-tested in the past are 400, 850, 900 and 950 metres and there is an almost continuous trend of conductivity over a length of 6.5 kilometre
Ben Lake, Joy, Joy North and Caravelle
The Joy North claim is contiguous with the Joy group of claims and covers five separate mineralized zones, all of VMS character.

A single 48 metre diamond drill hole was put down in the vicinity of the conductor (exact location unknown) in 1970 by Caravelle Mines Ltd.  It intersected a variety of metavolcanic rocks exhibiting intense alteration of the type associated with Volcanogenic Massive Sulphide (VMS) deposits.  It also intersected calc-silicate rocks suggesting that the Property may lie at the same stratigraphic horizon as the Dixie zone, 11 kilometres to the west.  The Dixie 18 zone, which lies on the Dixie Property, also held by Pistol Bay, was estimated by Noranda Inc. to contain 100,000 tonnes grading 12.5% zinc and 0.5% copper (see caution in footnote).
Lucky 7 / Moth
The Lucky 7 Property (5 claims, 640 hectares, 1580 acres) covers a number of mineralized zones. The claims adjoin the Garnet Lake and Garnet East claim groups that are part of the group of properties acquired by Pistol Bay from AurCrest Gold Inc.   A copper-gold sulphide zone, which apparently grades into a siliceous gold zone at its eastern end, was stripped and drill tested in 2002 by Kings Bay Gold Corp.   Two short electromagnetic anomalies were drill tested by Selco Mining Corp. in 1980.  A zone of massive to disseminated sulphides, referred to as the Hilltop Copper-Gold Zone, has been trenched but apparently never drilled.
The Moth group of 10 claims comprises 85 units (1360 hectares, 3360 acres).  It is separated from the Lucky 7 claims by a 5 kilometre gap.  It covers a 5.5 kilometre length of favourable geology and its north boundary is only 2 kilometres from the former producing South Bay mine, which is at the end of the South Bay Road, and hence the end of the most accessible part of the Confederation Lake greenstone belt.   The area was extensively explored between 1970 and the mid 1990s, with at least 14 diamond drill holes.  Widespread hydrothermal alteration was noted and there were numerous indications of zinc and/or copper mineralization
.
Mitchell, Gerry Lake and Karas Lake.
The Property consists of 33 mining claims, comprising 232 claim units, and covering approximately 3700 hectares.
The Mitchell Township or Fly-Moth claim group covers a 9 kilometre stretch of the Confederation Lake greenstone belt and extends to within 1.5 km of the former producing South Bay zinc-copper-silver mine.  The property was explored by Selco Mining Corp., Placer Dome Inc., Kerr-Addison Mines, St Joseph Explorations Ltd., Minnova Inc./Inmet Mining and Noranda Inc. at various times between 1967 and 1999.  Previous exploration has included approximately 90 diamond drill holes.
 The Wasp Lake Mineralized Trend was extensively drilled by Selco; This mineralized trend gave a strong conductive response on Pistol Bay's recent VTEM PLUS airborne survey.  The Company plans to have the geophysics modelled to assess the possibility of a deep-seated massive sulphide zone.
The Fly Lake zone was tested by 4 drill holes by St Joseph Minerals in 1976 over a 50 metre length.  Pistol Bay's VTEM PLUS survey gave a well-defined response on 2 lines, indicating a length of up to 400 metres. This zone appears to be open along strike and at depth.  The Company proposes to drill for extensions of the mineralization, assisted by modelling of the VTEM data. VTEM Anomalies:
 There are 9 discrete VTEM PLUS conductive anomalies that do not appear to have had any previous drill testing.  Their conductivity varies from very weak to moderate.  Most are in areas with little or no outcrop and one is under a lake.
In addition, Pistol Bay Mining Inc. is presently seeking other worthwhile projects but will not make any decisions until proper due diligence is completed.
2018 Confederation Lake Drilling
Pistol Bay has started it's 2018 Confederation Lake Drilling program ( see NR dated March 22, 2018) The first three holes will target the Arrow Zone at roughly 500 meters each. After these three holes are complete, the drill will be moved to the Fredart Claims to start a 10-12 hole drilling program. For more photos of our current program, please see our PROJECTS page under "Confederation Lake Drilling Photos"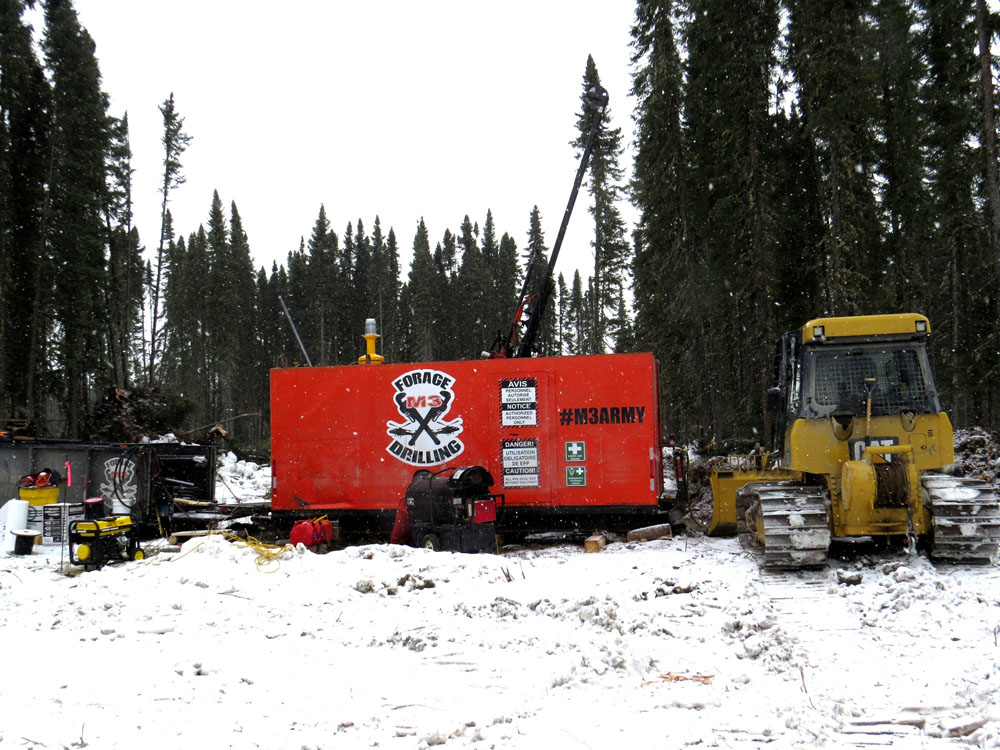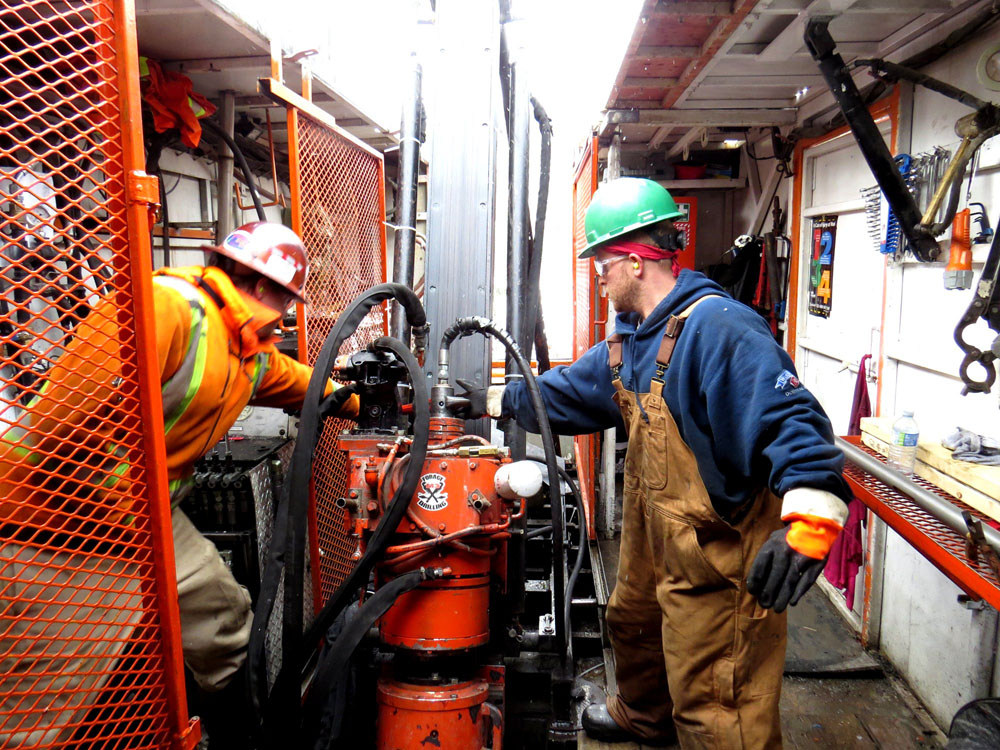 Presentations